about our award winning family holidays
The difference – Villa Pian Di Cascina award winning family holidays
Villa Pian Di Cascina award winning family holidays is run by parents for families (we have 3 children). We understand what makes a family holiday a success. We offer a truly child friendly villa – a place where your family can enjoy a relaxing, hassle free holiday in beautiful surroundings – Bring yourselves, your suitcase and let us sort out the rest…
For parents
We offer a range of services for adults as well as children; on-site massages, gourmet meals in our restaurant, family cooking lessons, a well stocked wine cellar and of course experienced babysitters to look after you little ones when you take some well deserved time off.
We offer bakery delivery in time for breakfast (fresh chocolate croissants are a favorite), handmade lasagne any night of the week (meat or veggie) and La Tavernetta, our restaurant, is open twice weekly for gourmet dining – parents can just relax and enjoy –
Villa Pian Di Cascina award winning family holidays offers a child friendly environment where children of all ages can be given the freedom to explore and a safe place in which to do it. Both young and older children are welcome and will find plenty of things do keep them busy.
about the child friendly villas
The properties are located in 3 separate buildings, a 17th century restored farmhouse (Cascina, Villetta, Cantina), Il Granaio – a recent barn conversion (Gubbio, Assisi, Montefalco & Spello) and Il Fienile – a modern eco-build (Olivetto and Pinolo). All properties have been designed with family living in mind and offer you a home from home where you and your family can instantly relax and start enjoying your holiday from the moment you arrive. 
Our family friendly villas are set in eleven acres of unspoiled countryside and is surrounded by olive groves, stunning views, rolling hills and mountain wilderness and there is plenty of space for children to run around and explore. There are exciting things to play with and endless ways to create imaginative outdoor worlds. We haven't forgotten the grown-ups,  Villa Pian Di Cascina is a peaceful, happy place where like-minded families can relax and enjoy time together.
Outside there is large, fenced pool with a heated splash pool & water toys, a fun pool slide and child friendly non-slip pool tiles throughout. There is a grassed play field with a sand pit, enclosed Little Tikes ride-on park, table tennis, tyre swing, hanging bars, older kids climbing frame, play fort, play house & kitchen, castle & role play, badminton, boule, scooters, go-cart, swings, slides, lawn games, mini football, swing ball, a caterpillar tunnel and so much more…
At Villa Pian Di Cascina we offer awarding winning family holidays – we were voted by the Guardian newspaper as one of the top 20 places to holiday with kids in Europe in 2015, we have won top 10 awards with Baby Friendly Boltholes in 2012 and 2016, we are consistently highly rated on Trip Advisor and have won excellence awards every year since 2010 and we have been specially selected by Alistair Sawdays as one of their special places to stay in Italy since 2012.
the other residents…

There is a flock of friendly chicken that always love to be fed and your children are welcome to collect an egg in the morning for their breakfast.
We grow our own figs and raspberries – in season you and your children can happily pick your own delicious, fresh, sun ripened fruit straight from the bush.
More about our holiday homes
All our properties are child safety checked, spotlessly clean and equipped with a big box of toys. All linen and towels (including pool towels) are provided. A full cleaning service & linen change is included at the end of each week's stay – or can be arranged as often as you wish – for a little extra.
Our kitchens are all fully equipped with dishwashers, microwaves, gas hobs and ovens. Our complementary sundry pack includes; loo rolls, organic face soap & shampoo & hand soap, dish soap, kitchen spray, kitchen cloth, scourer, tea towels, kitchen towel, bin bags, coffee filters and dishwasher tablets – all products we provide are kind to the environment – no need for travel guilt – we are an eco villa.
Each property has a private outdoor space with shade, loungers, a dining table and chairs and a gas BBQ – as most of our guests live outdoors!  For nights in – every property has comfortable seating and a flat screen TV with a media player and a range of TV and films for all ages – in English. For those who need to stay in touch, there is complementary wifi and good cell phone reception.
We also offer an exhaustive list of equipment for babies and toddlers free of charge.
We offer you a home from home in glorious countryside in the heart of Italy - culture, great food and happy times...what are you waiting for? - book your award winning family holidays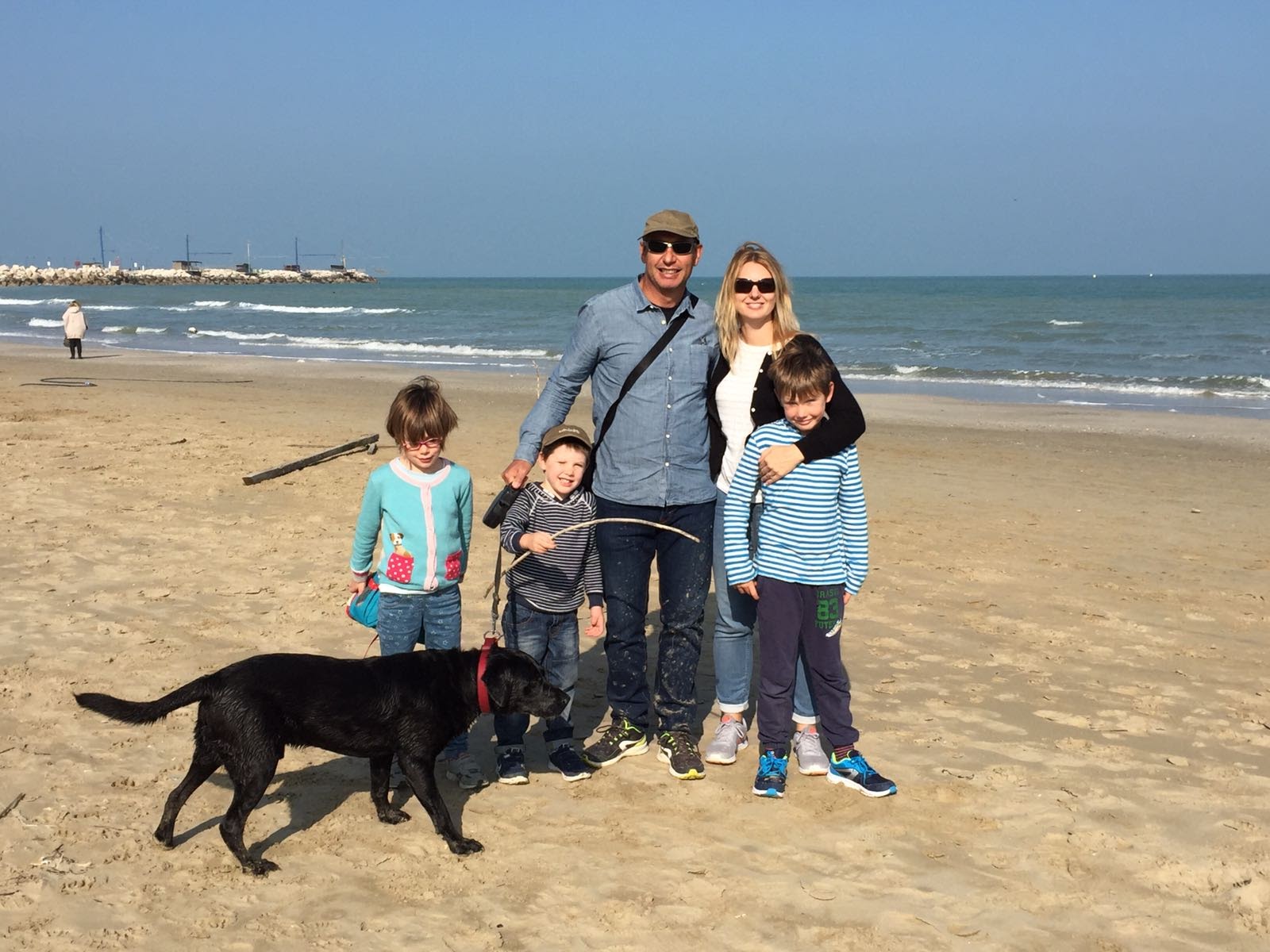 about us – Paul and Isabel
We are an energetic couple who gave up sensible jobs in the city to pursue our dream of living and working in Italy. We are passionate about preserving the environment, locally grown food and embracing a slower pace of life. We spent several years painstakingly restoring our abandoned 17th century farmstead and even longer resurrecting and clearing the 20 acres of surrounding olive groves and abandoned countryside.
We have opened our family friendly villa and home to visitors since 2007 -We are pleased to say that after many years of hard work we have created a beautiful, environmentally & family friendly holiday villa that offers the perfect place in which to enjoy everything Umbria has to offer. We are very pleased to be part of something that brings a smile to the faces of so many familes – our award winning family holidays is such a  wothwhile project – so much more than a job to us!
We also manage and run a small organic farm which grows soft fruit, olives for oil and organic vegetables.
We are now lucky enough to be living the Italian dream at Villa Pian Di Cascina with our 3 young children, our lovely black Labrador, Ollie and our very friendly flock of chickens.
What do we love about it?
We love living in rural Umbria – The farm is an oasis of rest and relaxation, in the midst of olive groves, fig, walnut and oak trees. We never tire of the views from the villa and pool it is truly breathtaking – we also never tire of exploring the beautiful countryside that surrounds us! There is a sense of peace, calm and tranquillity that washes over everyone that stays here – our guests often comment that they instantly relax and forget the pressures and stresses of the modern world-we love that…
The villa, although in an unspoiled location with almost 360 degree views is also very handily located and not too isolated from life's essentials – It is 1.5 km from the village of Casa Castalda, which has a variety of shops including, a butchers, cheese shop, bakers and 2 grocery stores and a short walk from Carbonesca, which has 2 bars and a small shop. Gubbio is only 25 minutes drive away and Assisi is a 15 km picturesque drive from the villa. Perugia, the Adriatic coast & beaches, lake Trasimeno, Spello, Spoleto, The Caves of Frassasi, Cortona, Todi, Bevanga, The Marmore falls and Montefalco are all within an easy distance – perfect for day trips. We also love the fact that there are several good restaurants within a few minutes drive…
Why we are loved by parents and children alike –
For parents -We offer a lovely, well equipped self-catering, child friendly villa with all the added extra services of a hotel that help make your holiday as relaxing as possible. (on-site restaurant, food delivery, shopping service, fresh bread & pastries each day, massage & beauty treatments, babysitting…and much more) You can relax in the knowledge that the villa and the farm are safe for your children to play and enjoy themselves.
For children -We provide lots of lovely toys for both inside and outside use (each child also gets a selection of toys just for them to enjoy) We have 3 small children of our own – who make perfect playmates – more often than not there are other families with children of similar ages –
What do kids love about it?
Kids love our place because there are plenty of toys and games and friends to play with, there is a fantastic play lawn with plenty of space to run off steam and there is a splendidly huge pool- with a heated splash pool – perfect for fun and games…
award winning family friendly holidays – recommended by