THE SPACE
THE VILLA AND GROUNDS 
Pian Di Cascina offers 8 bespoke properties spread over 20 acres of lush countryside surrounded by 360 degree views of countryside and the Apennine mountains. There is a large play lawn and various playgrounds.
The stunning swimming pool is set below the properties and has infinite mountain views.
AERIAL SITE MAP
Refer this aerial map of Pian di Cascina to get an idea of where things are located.
The Farmhouse houses (from left to right) The Cascina, Villetta and Cantina, which is located underneath the Villetta.
Il Granaio houses (from left to right) The Gubbio, Assisi, and Montefalco.
Il Fienile house (from left to right) The Oliveto and The Pinolo.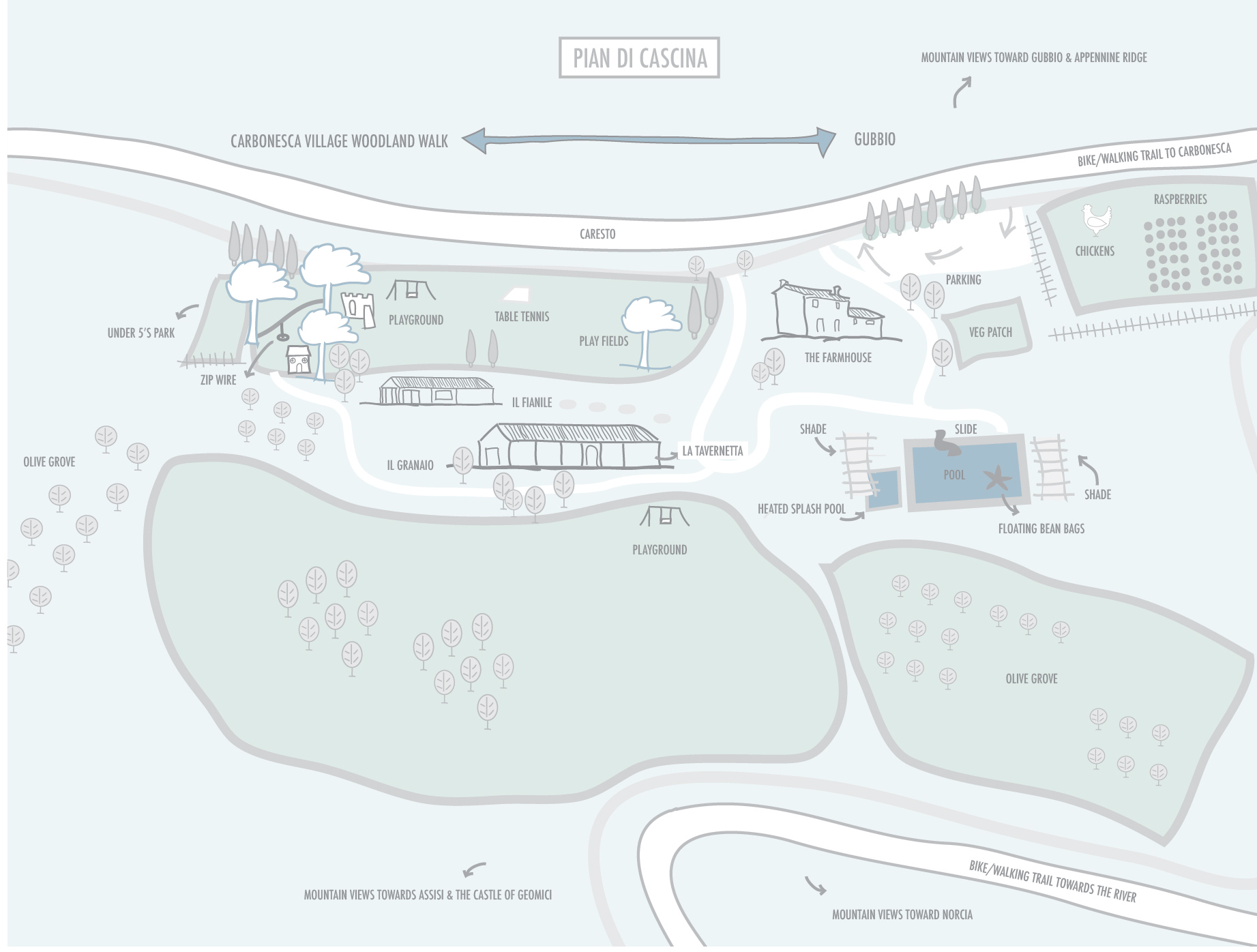 PLAY FIELDS
The play fields include something to capture every child's imagination. We have created a safe and fun outdoor space where children can run free and have adventures. Our play field is grassed and partly shaded by umbrella pines, walnut trees and a gazebo. There are plenty of comfortable chairs all around for parents to relax in.
Just some of the toys & games you and your family can have fun with; table tennis, swing ball, badminton, tyre swing, zip slide, climbing dome, climbing frame, slide, hanging rings, ladder, mini climbing wall, hanging bars, basket ball net, castle & play fort, role play house with kitchen, fenced little Tikes ride on park, sand pit & toys and much, much more.
ACTIVITIES FOR CHILDREN
In the busier summer months, we provide a couple of complementary fun activities for children each week. We aim to get even the youngest or shyest child involved in a group activity that is both fun and educational.
Children can get involved in a tractor demonstration, with Paul, learn how the tractor works and is used on the farm and even have a go at driving it themselves. Our tractor demo is is usually quite popular with some of the larger kids as well (Dad's!) – everyone is welcome!
We also have a fun group activity each week, such as a paper aeroplane making and flying competition or alternatively a child safe archery lesson followed by a chance to have a go and then take part in a light hearted competition.
THE POOL
We have a large outdoor pool, with breathtaking views, open from May to the end of September. There is a pool slide, floating bean bags and a heated splash pool for children with water toys. The pool is gated, fenced and has non-slip tiles to make sure that is is a safe as possible for little ones.  There is a solar heated shower and a range of comfortable sun loungers and lounge chairs. There is plenty of shade, offered by 2 large gazebos on the east and west side of the pool. The children's splash pool is also shaded.
RASPBERRIES AND FRUIT
In season we offer pick your own raspberries – we have 300 raspberry plants – picking can be a fun activity for all ages! In spring you can pick your own cherries from our trees. In autumn you can also pick your own figs. (All pick your own activities are subject to availability of fruit)
CHICKENS
We have a flock of friendly chickens – many children really enjoy meeting the chickens – you can say hello, pick them up and if you are lucky – you may even find a fresh egg in one of the nesting boxes!
LA TAVERNETTA
We make our own jam and produce a vibrant olive oil, which is hand picked and pressed from olives grown on the estate. In high season we offer a weekly alfresco pizza night – fun for all ages and a chance to socialise and enjoy some local food.
WALKING TRAILS
There are beautiful country walks straight from the villa on safe tracks and trails. You can walk to the castle of Giomici enjoying spectacular views from the ridge opposite the farm. There is also a circular woodland walk which passes through the village of Carbonesca, an ideal spot to stop for an ice cream.
If you enjoy running, there are miles of off road scenic tracks, perfect for training.
LOCATION
We are located in an unbelievably spectacular place. There are 360 degree panoramic views of rolling hills and the peaks of the Apennine mountains. The farm is spread over 11 acres of unspoiled private land. There are olive groves, woodland and farmlands. The local village of Carbonesca is within easy walking distance, where you can find a general store and a bar that sells ice cream, pastries and snacks.  There is a larger village, 5 minutes by car, at Casacastalda, where you will find a range of shops, including a bakery, pharmacy and cheese shop.
awarding winning family holidays recommended by